Ghaelen's little prototype of her Healer's Age is a very popular region to explore, unwind, and attend her empowerment events.  Since late 2016, it has been on the Featured or Popular List.  It even won an award in the 2017 Sinespace Home and Garden contest!  Another of her regions on the Featured list is Steam Lake Winter.
Here's what you do to get to De Landria Isla in Sinespace:
 If you want to register the usual way, click here or copy/paste this link into your browser to navigate to the Sinespace website. If you use this link you'll immediately be friends with ghaelen.
https://sine.space/signup/refer/MjEwNjcyMQ==
You'll need to give them some information.  Choose your avatar gender and look – then fill out the username, email address, password and the rest.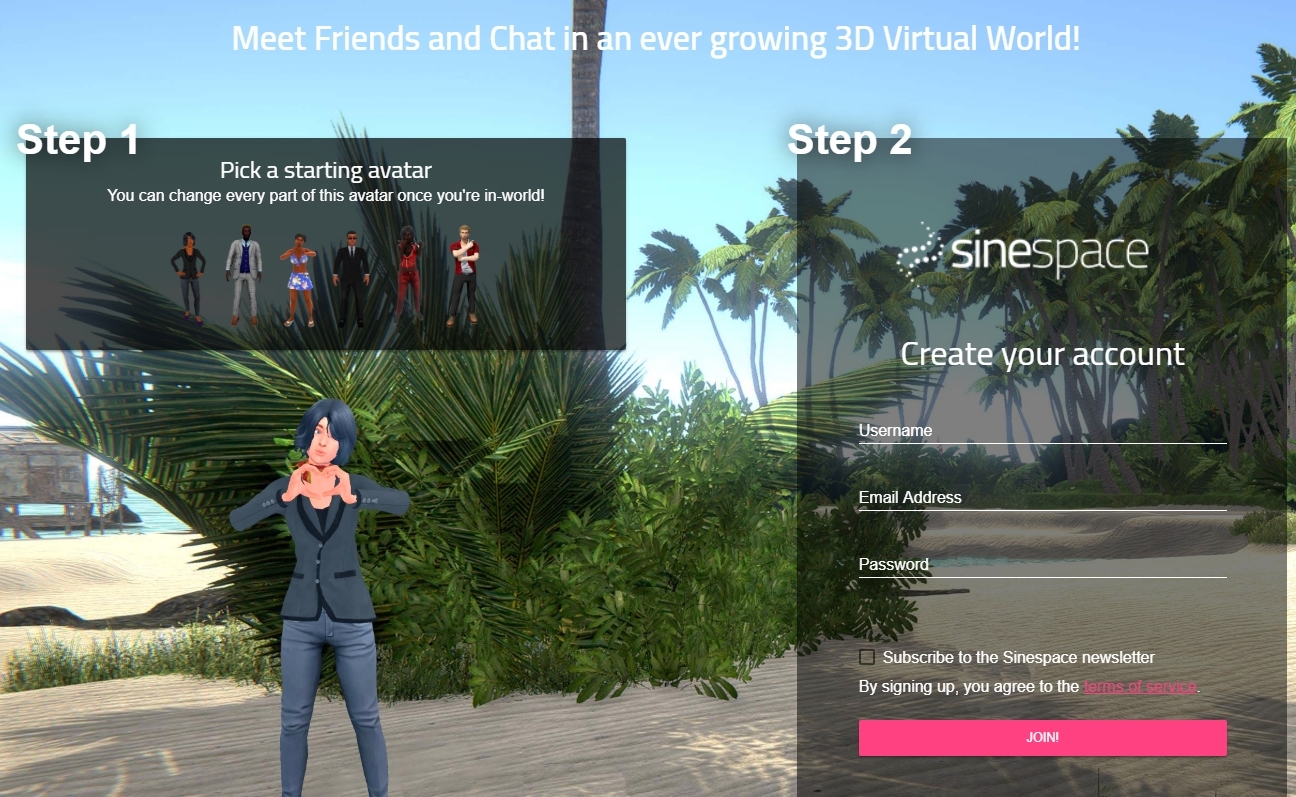 If you already have an account, you can use the browser link to De Landria Isla. Click the Big Red Square Button to enter as a guest.
(Note: Most browsers need additional development to show the worlds of Sinespace, namely a larger memory allocation. If you see a 'can't run content' error, you can visit the region as a guest using the downloaded client). The download client is one additional step but also provides a much more powerful experience.
2.  At the download page, choose your operating system. You can also scroll down to see other viewers under development, even VR and Experimental viewers.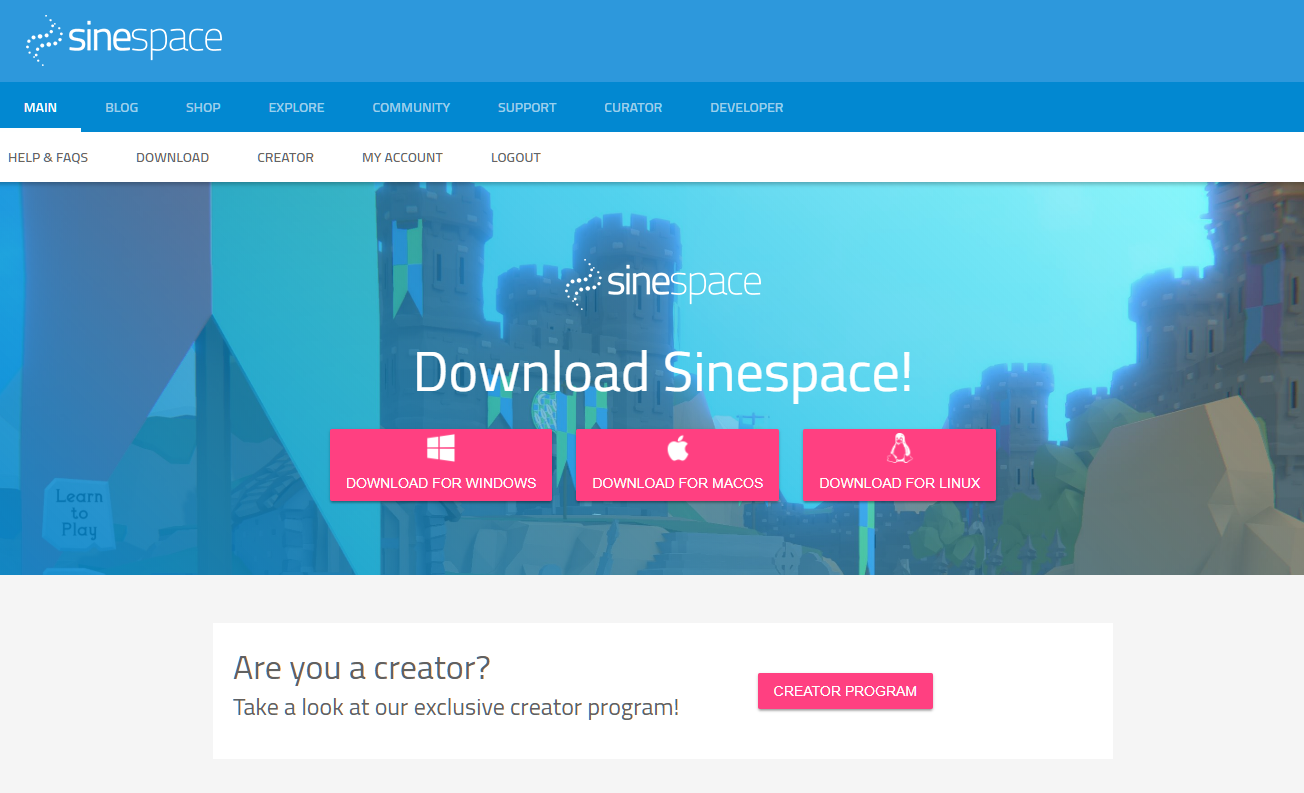 3.  If you are interested in becoming a creator, click the big red button that says "Creator Program" and follow the instructions.  You'll get email verifications and download links for the creator tools we use (mostly the Unity Editor and Editor Pack for Sinespace). If not, move to step 4.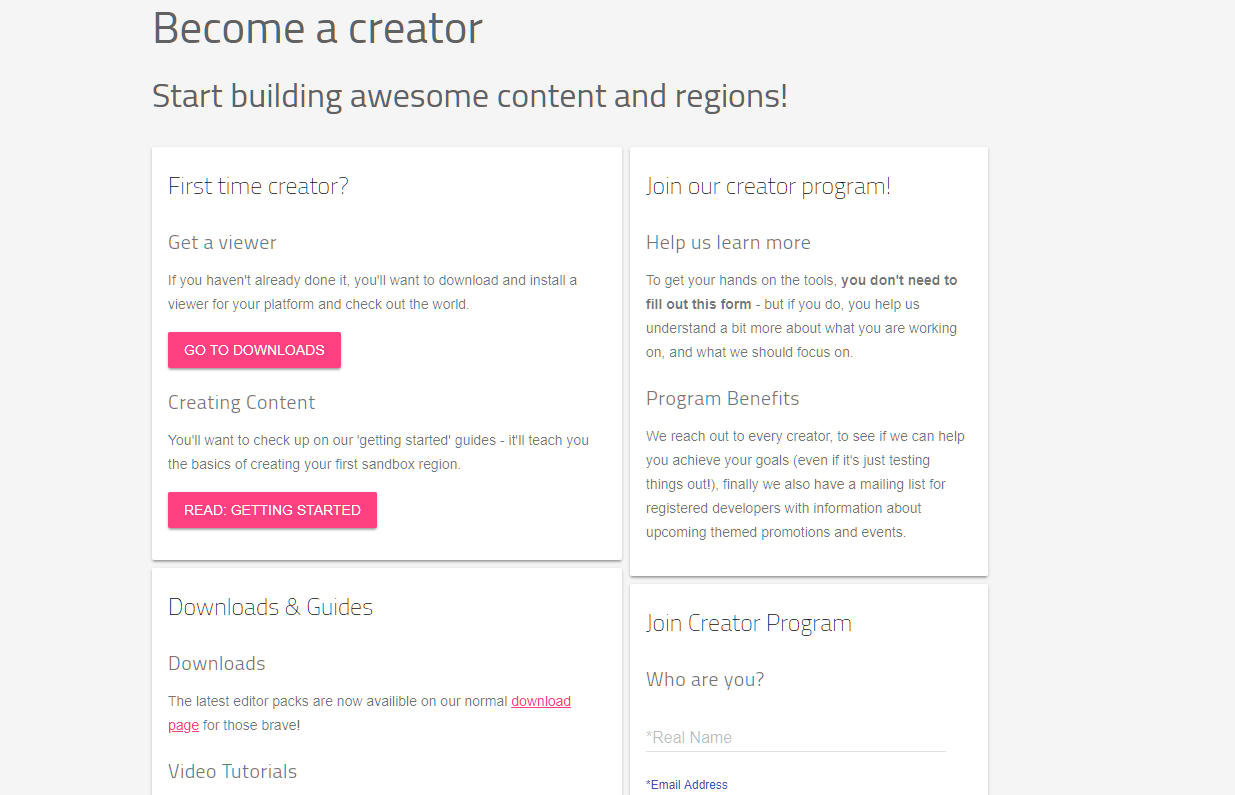 4. Once you've downloaded the viewer, allow it to install the stable version.  When the client is done downloading and installing, allow it to launch, or click the sinespace.exe in the program folder.  When it's installed, the login screen will look something like this: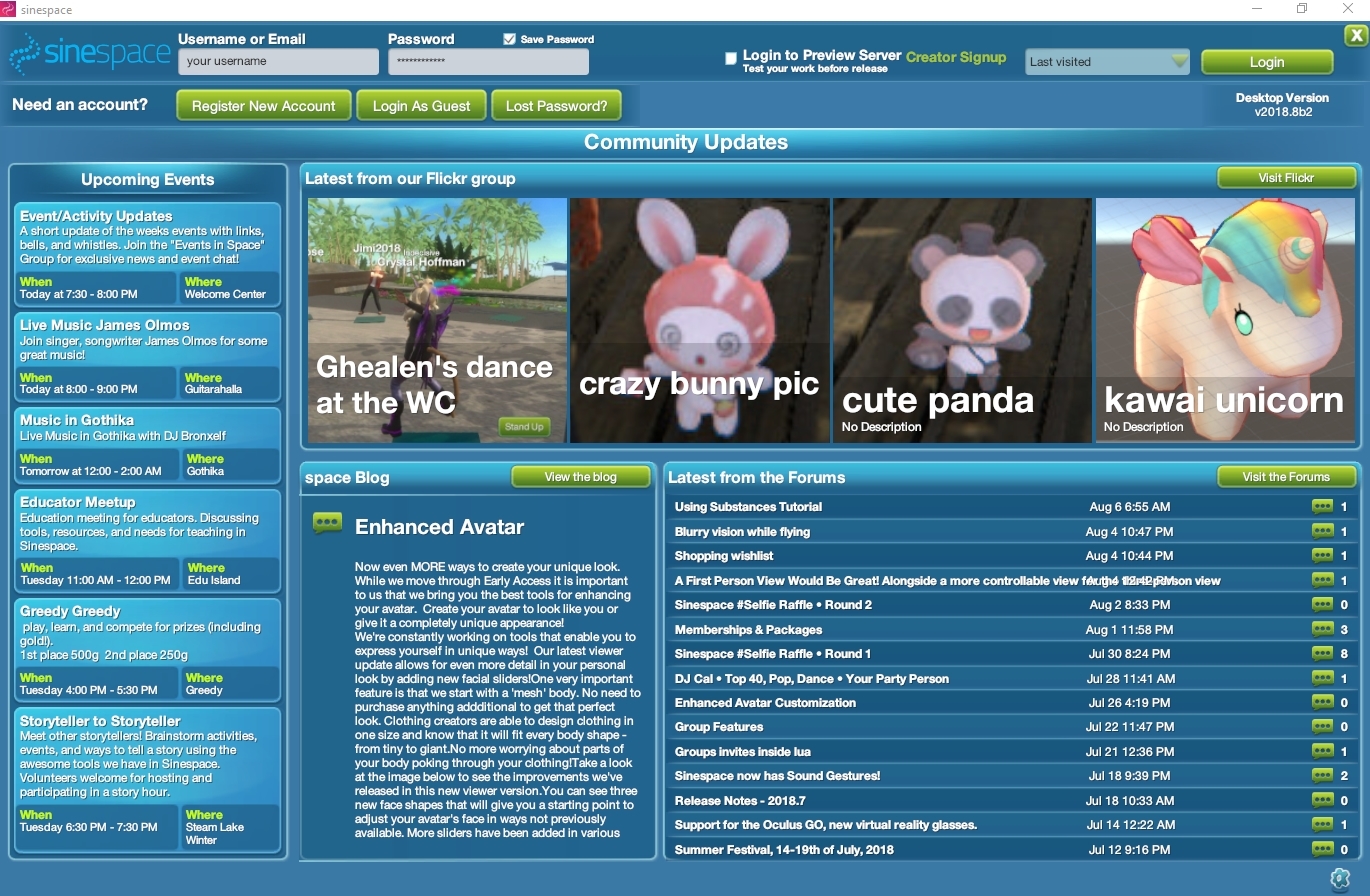 Important Note!  Leave the box "Login to the Creator Server" blank unless you have been accepted as a creator from Unity.
Click "Login."  If you're just joining or this is your first login visit, you'll arrive in the Welcome Centre.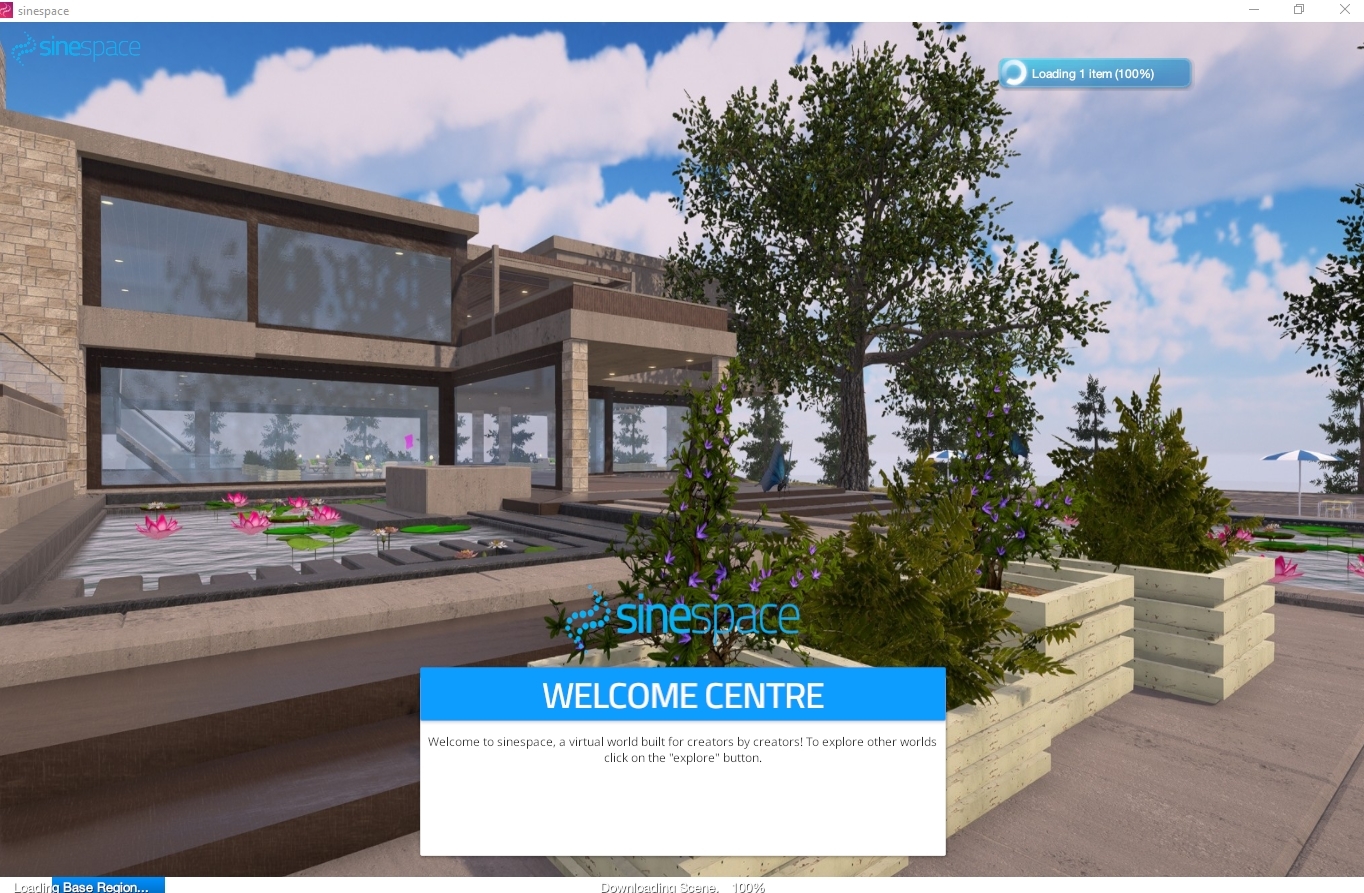 5.  Let the Welcome Centre load.  There Guides there to help you and there's a fun quest you can do to learn movement, appearance, currency, and other useful things.  You'll also be 'friended' with Ghaelen right away so she'll know you're there.  She'll send you a message as soon as she sees it 🙂
If you've arrived for an event, just ask where it is.  The helpful Guides can direct you or point you to the teleport sign.
If you are here for a Healer's event, or if you want to see the healer's prototype world, proceed to De Landria Isla from here.  Click the "Explore" button at the bottom of your User Interface screen.  Scroll down the Featured list until you see it.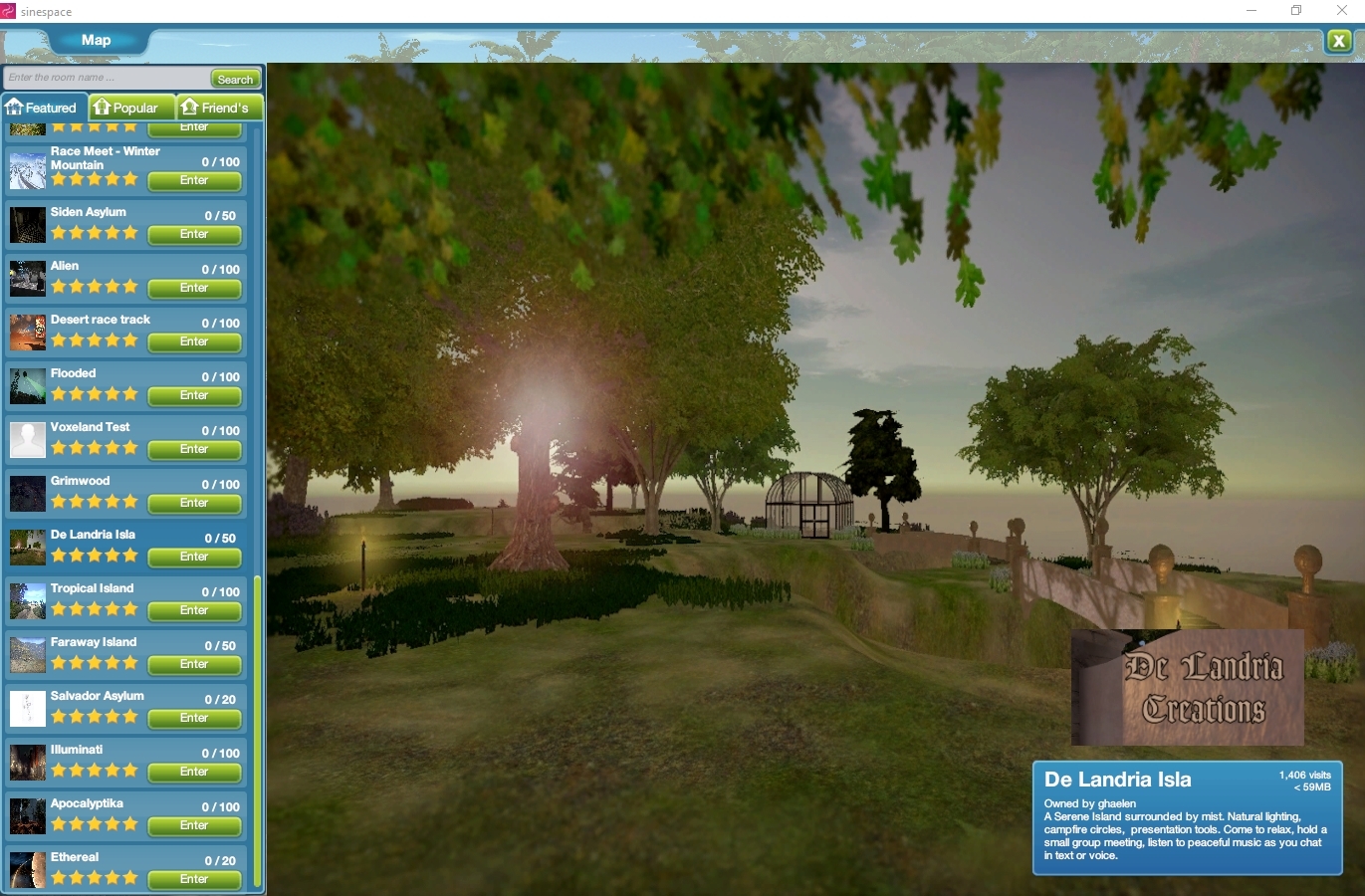 (If you are using the Browser:  click here or copy/paste this link into your browser's address texbox: https://sine.space/locations/delandriaisla)
Either way, click "Enter" and your screen will look like this: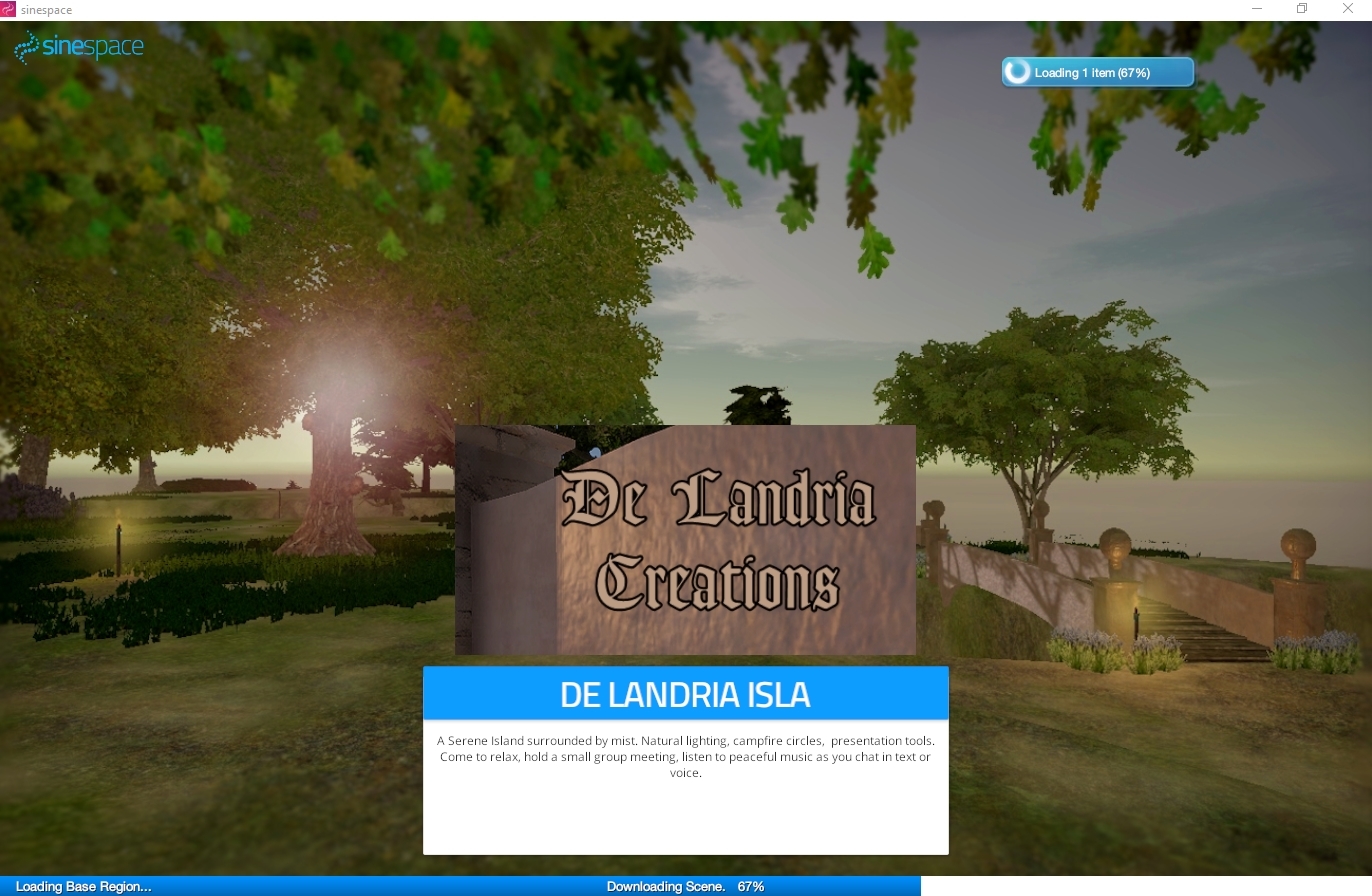 Once you've landed, explore!  There are torches and campfires to light your way if it is dark.  The day/night cycle is three hours long, and the torches, birds, and crickets start/stop at dawn.  Sit at the campfire and relax, or test the inworld browser.  Don't miss the sunrise or sunset!
Click here to see what else is happening in Sine Space
Enjoy your Journey!