Here's what you do to get to De Landria Isla in Sine Space:
Click here or copy/paste this link into your browser to navigate to the website.
https://sine.space/signup/refer/MjEwNjcyMQ==
You'll need to 'join'.  Choose your avatar gender and look – then fill out the username, email address, password and the rest.
If you already have an account, scroll to the bottom of this page for the browser link to the world.
(At #4 – If you're interested in possibly creating your own world, collaborating with others to develop a learning space, or make things for sale, leave the box checked that says "I'm a content creator and interested in making content."  Any upload to Space that you want to control will pass through the creator server and curator processing. Leaving the box checked does not require you to become a creator.)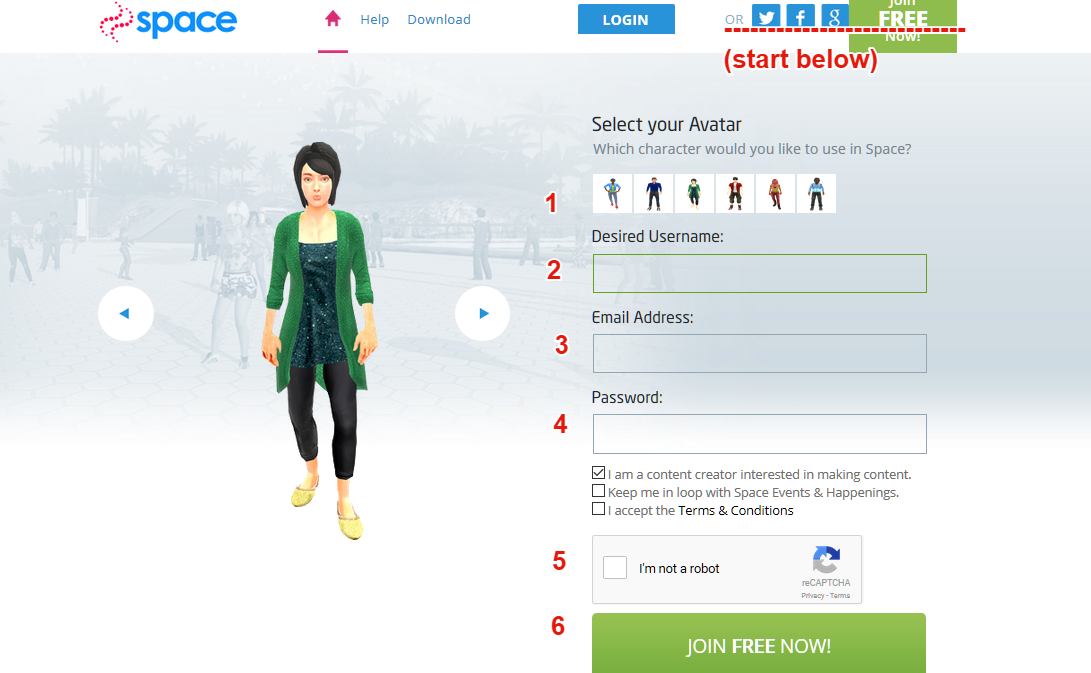 If you are at all interested in becoming a creator, fill out the form in the next screen and click "Submit Application" at the bottom.  That will initiate more information to come to you via email and allow you to log into the Creator Server (that's where you check out your creations before publishing them to the Live Server).  You can come back to that site and sign up later:  Space Developer Site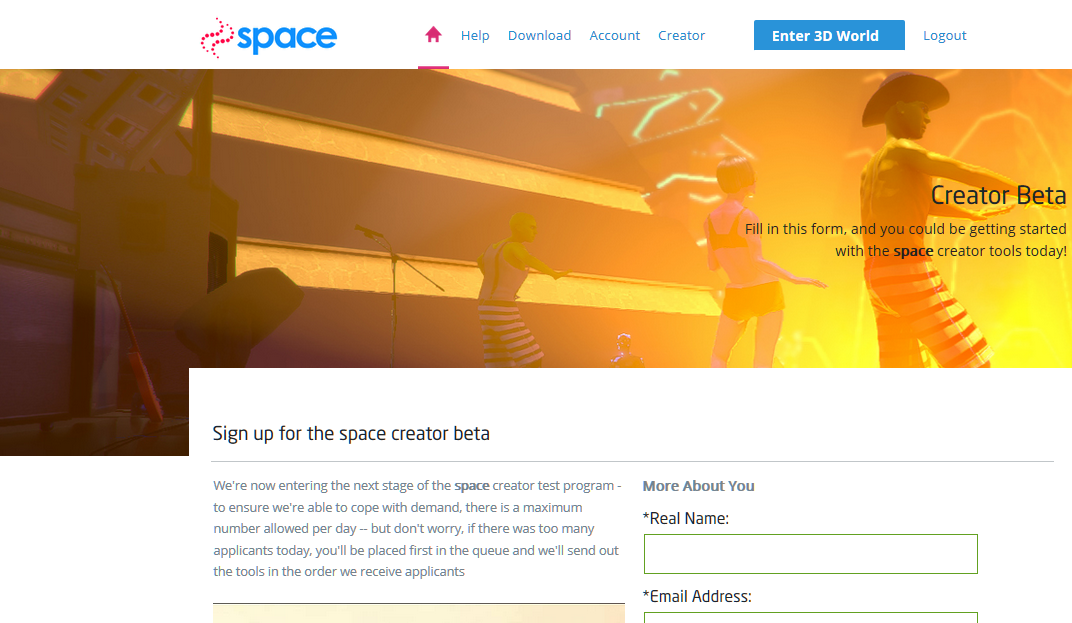 Now click on the big blue "Enter 3D World" and you'll see some options.  For now (Fall, 2017), you'll need to download a client viewer because webgl is still undergoing a major update(s) and doesn't play well with the Unity-based platform.  You can try going in through your browser, but don't be disappointed if it freezes and tells you there's an 'error occurred running Unity content'.  The download client is one additional step but is also provides a much more powerful experience.
(If you can't download or install the standalone viewer, try first entering Sine Space through this plain white region space.  It is plain because it uses very few resources and is a good place to stand while learning to use the interface and 'Explore' tab to read about other regions before teleporting to them.)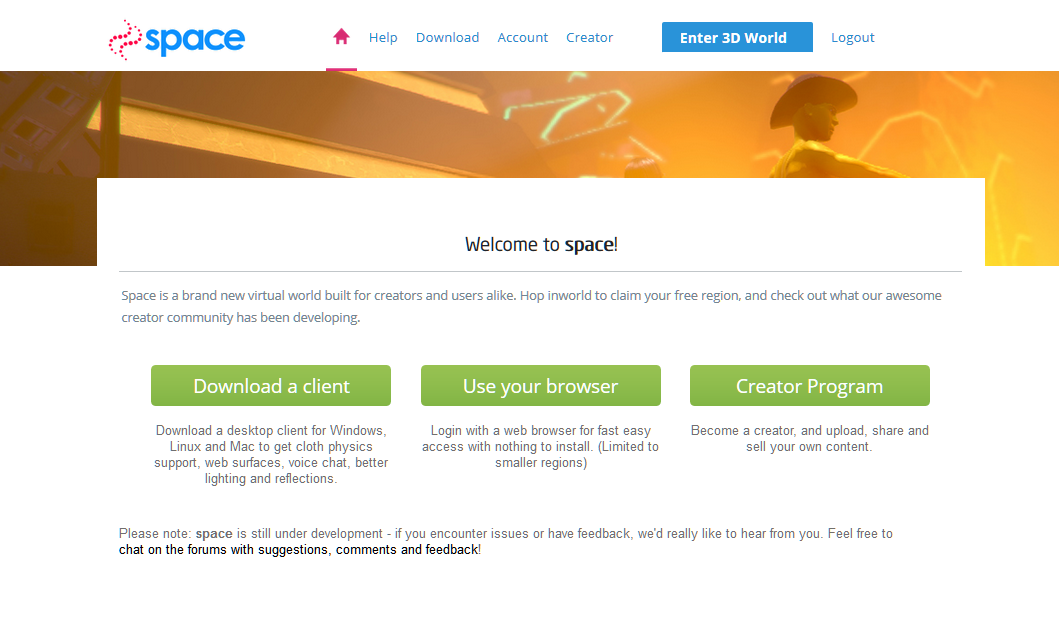 The download page.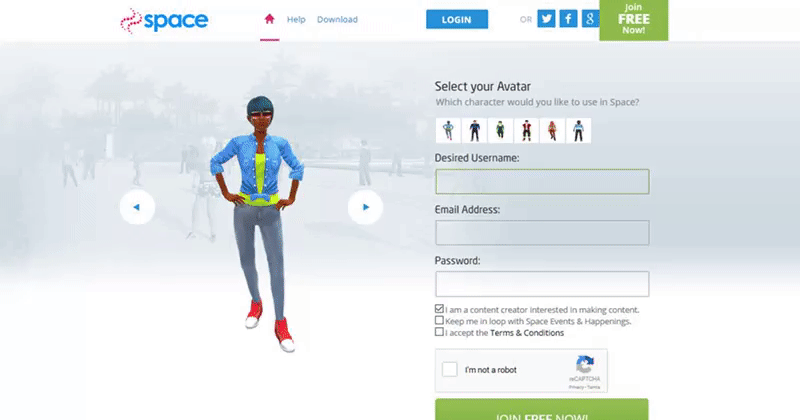 When the client is done downloading and installing, allow it to launch, or click the sinespace.exe in the program folder.  The login screen will look something like this: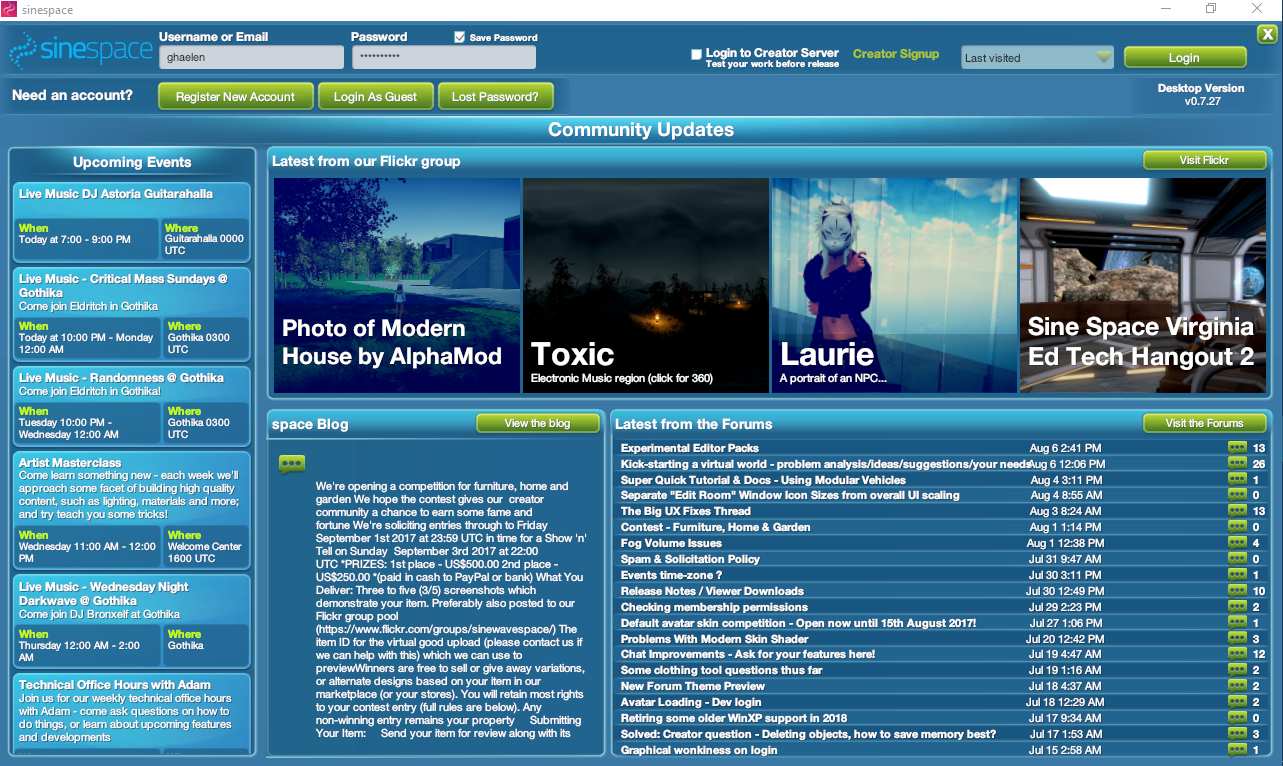 Important Note!  Leave the box "Login to the Creator Server" blank unless you have been accepted as a creator from Unity.
Click "Login."  If you're just joining or this is your first login visit, you'll see the new Welcome Centre window: (Ignore the 'browser screen' words for now – Fall, 2017)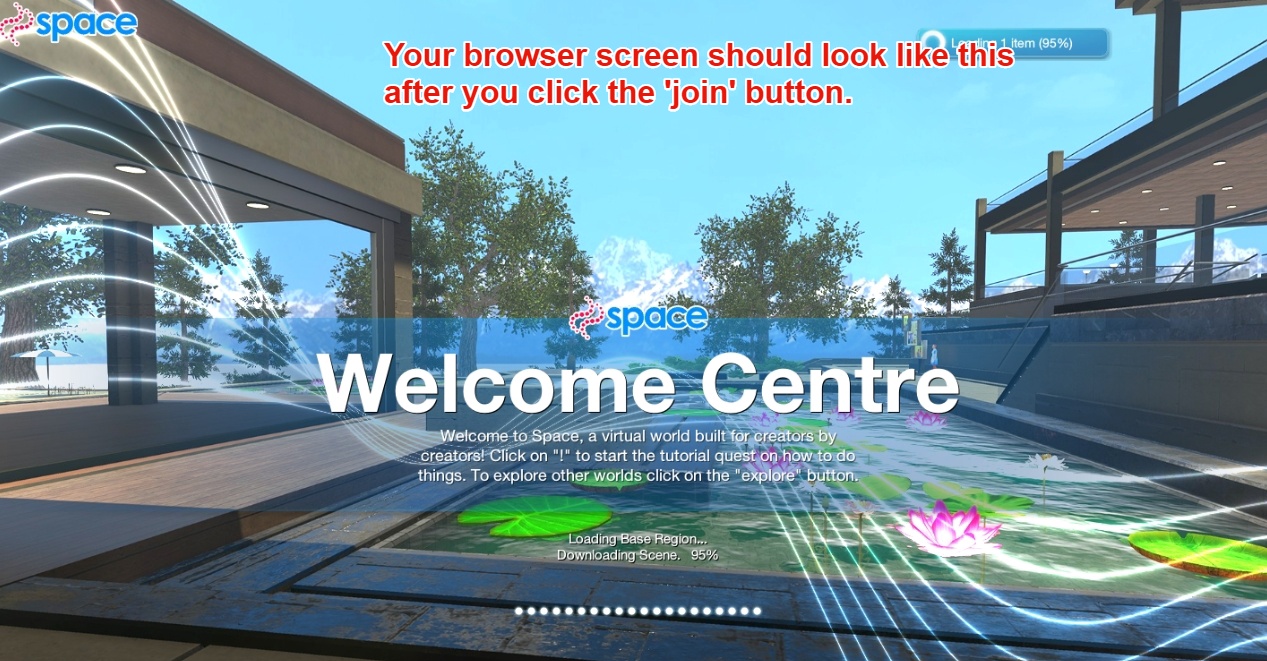 Let the Welcome Centre load.  There may be someone there to help you and there are helps for you to learn the controls.  You'll also be 'friended' with my inworld avatar (ghaelen) right away so I know you're there.  I'll send you a message as soon as I see it 🙂
If you've arrived for an event, stay in the Welcome Centre.  We'll direct you to the region.
If you are here for a Healer's event, or if you want to see the healer's prototype world, proceed to De Landria Isla from here.  Click the "Explore" button at the bottom of your User Interface screen.  Type De Landria Isla into the textbox just beneath the 'Map' word.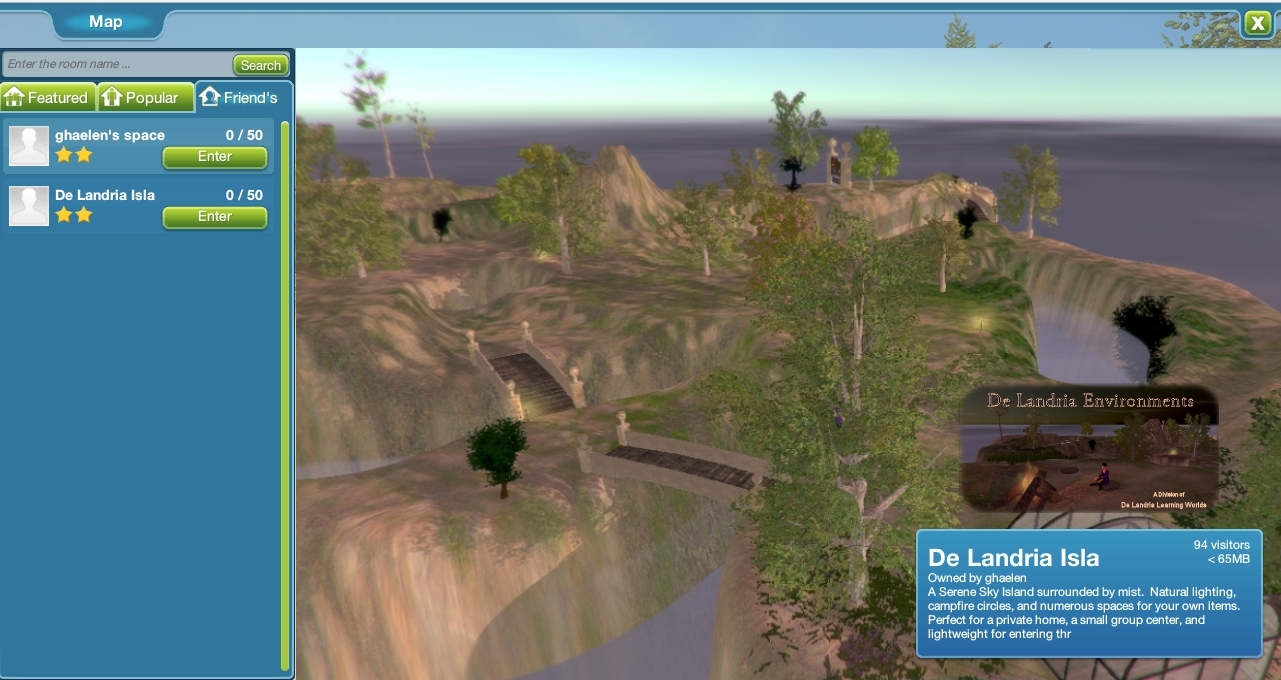 (If you are using the Browser:  click here or copy/paste this link into your browser's address texbox: https://sine.space/locations/delandriaisla)
Either way, click "Enter" and your screen will look like this: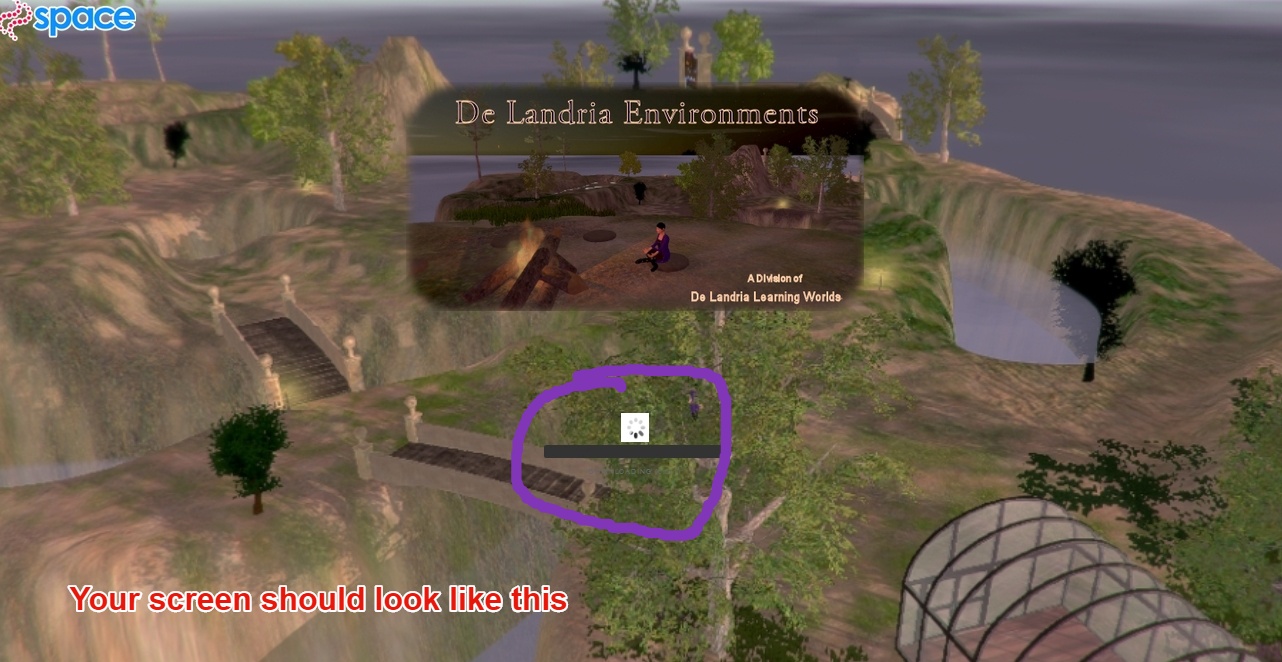 Once you've landed, explore!  There are torches and campfires to light your way if it is dark.  The day/night cycle is only three hours long right now while I get the darkest time lit a bit more.   You can also sit at the campfire or browse at one of the presenter screens.  Don't miss the sunrise or sunset!
Click here to see what else is happening in Sine Space
Enjoy your Journey!